You'll Have Our Attention
The Principal Architect will be involved in your project from inception through completion and will provide the interface between you and our architectural office and engineering support. The Project Architect will involve himself with your project on a day-to-day basis, committing a significant portion of his time to it during the site plan approval process and the preparation of the Documents to construct the project.
Additionally, Lee Architects provides post construction services with regard to evaluation of the building and its systems after a period of time. We make an eleven-month inspection to assure that you are fully protected in your three-year warranty rights. We anticipate that our involvement with you will move through the full development time frame and extend almost one year beyond that point.
Lee Architects will remain available to you beyond the completion of your project. Our goal is to establish a personal and professional relationship with each of our clients, not simply to get and complete a job.
Master Planning is Essential for Your Project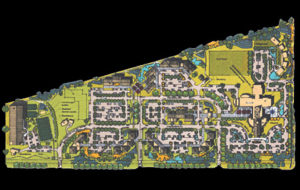 The overall master plan for a site will establish the framework for the development of the property in a manner that is consistent with your presence in the community. A master plan must address broad scope issues, such as:
Vehicular and Pedestrian Traffic
Service Access
General Building Concepts
Existing Buildings
Historical Preservation Issues
Topographical Issues and Opportunities
Utility Services
Storm Drainage
Landscaping Concepts
A master plan recognizes existing governmental regulations including zoning, planning, codes and ordinances.
Our approach to each project is structured to effectively respond to the needs of our clients in a timely and efficient manner.
We Will Help You Realize Your Vision
Lee Architects/Interior Designers is large enough to deliver your projects in a timely manner, yet small enough to provide personal service. We have a very talented in-house interior design department, which greatly enhances communication and coordination. The Director of Interior Design is responsible for the selection of color and material for the interiors of new construction or additions as well as any upgrades made to an existing facility. We can also provide bid documents for your equipment, which speeds up the process and helps you to get the best prices.
Understanding Focus and Mission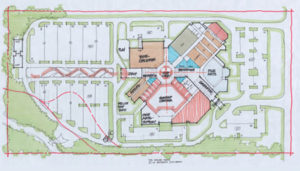 All programming must begin with an understanding of focus and mission, the definition for which must come from the client. With that background, work can commence in defining immediate and projected physical, psychological and emotional needs. This includes physical dimensions and relationships. Expectations, with regard to quality of finish and expected "life" of the building should be defined early, because these expectations dramatically impact costs.
The more successful programs delineate goals for both the collective project and individual functions. These goals encourage meaningful critique of design proposals.
Many projects require phasing due to budget constraints, which brings two issues to the forefront. The first is master planning of the site. Master planning allows us to understand the capacity of the site, and provides a means of assuring that each phase of development contributes to an ultimate vision.
It is a rare client that comes to us with a completed building program, although most have begun initial explorations into the process. We are accustomed to working hand-in-hand with the client to develop these parameters.
Make Informed Decisions
For every new site and/or building, the client must completely understand the existing conditions and the resulting cost consequences before development begins. It can be a lengthy process beginning with the topography and the challenges that presents through the city and/or county requirements. Issues such as drainage, traffic flow and parking must be addressed as well as utilities including water, sewer, gas and electric service and phone lines. If the proper zoning is not in place the process for change may take months even if no one objects to the change.
We have extensive experience in dealing with local authorities and agencies to secure the necessary approvals for a project. We have often dealt with the individuals involved and we know how they operate and have developed a rapport with them. This can be extremely helpful and time-saving as the processes proceed.
This ground work is absolutely necessary in order to make informed decisions about the project.
Tools for Communication
Renderings, sketches, drawings and other computer simulations are invaluable tools for communication of aesthetical, technical, and budget issues. We develop renderings, using the latest computer programs and equipment, which look at the exterior and interior of a facility and often an animated fly-by and/or walk-through.